I am doing a blogathon for my aunt Tricia.

It's hard to know where to begin a post like this. I suppose I will jump into practicalities first and say that Tricia is extremely ill with Stage Four ovarian cancer. It's terminal. No one knows how much time she has left, really; they're taking a last-ditch shot at a new type of chemo that they hope will be palliative (though I've never heard that word in association with chemo before) and that may buy her some more time. But things are nearing an end.

I find it hard to imagine what Tricia's family will do when she goes. Tricia, right now, lives with her two daughters and their two children. Both of her daughters, Laura and Brianne, are young single mothers who have been getting their feet under them in the last couple of years, and they've relied heavily on Tricia in doing so. And Laura and Brianne's children are five and two, respectively. They're both bright, loving kids who are a joy to be around, but they've got their share of troubles that make caring for them difficult at times. Aliyah, Laura's daughter, has life-threatening allergies to a huge number of foods. Brianne's son Jayden was born legally blind, and although I believe there was some initial treatment that enabled him to see a bit, his condition is degenerative, and ongoing treatment is expensive.

Tricia has been their mainstay through this. She's supported them emotionally and sometimes financially through the worst of times. And her daughters aren't the only ones she helps. Her home has been open to troubled kids, kids who've run from bad home situations or who just have nowhere to go. And they love Tricia. I think we all know how charitably society in general tends to regard troubled teens with nowhere to go, but that's so far from the way Tricia thinks that I honestly don't believe it's ever even occurred to her to be judgmental. If someone needs help, she'll help them. It sounds trite to say she sees the good in everyone, but with Trish, it's not a Mary Sunshine thing, or a conscious effort. It's simple for her, seeing everyone in terms of their best qualities. It's reflexive. And it's very rare.

Through everything else she's done, she's worked. She's a nurse on an addiction/recovery unit, which is a hard, hard, stressful job. She does that job with a grace that few others can match, from what I'm told. The angriest, most recalcitrant of patients love Tricia, because she treats them with such kindness, humanity, and good humor. It's a hard line to walk, retaining good grace while working in a job that demands so much of you emotionally, being kind without being a pushover. Trish is amazing at that job because she's amazing outside of the job too. She's always had that grace and kindness. She has a unique ability to make everyone who meets her feel at home. She's empathetic and she's generous and she is, incidentally, totally hilarious. You always leave Tricia's presence laughing. She makes you feel good about yourself.

She is one of the most beautiful people I have ever known.

A huge number of people have rallied around her in her sickness, further testament to how well-loved she is. There have been major donation drives. They've been necessary for a number of reasons, one of the major ones being that her house had fallen into disrepair and we wanted to get it straightened out and accessible for her if she becomes too weak to navigate it as it was. The other big reason is that her health care is (surprise!) tied to her job, and she is no longer able to work. Her coworkers helped out by donating their sick time to her so that she could remain covered, but that's running out. There is also a mortgage on her house that they want to pay off so that Laura and Brianne won't be struggling to pay those bills when Tricia goes.

The donation drives were big. They raised enough to fix up the house. But now that that's done, the money they raised is gone. The sick time will soon be out, and although she can go on Social Security, there is (surprise surprise!) red tape and wait time. The mortgage isn't yet paid off either. But the big thing is the job and the healthcare.

If you have ever hated American healthcare and its lack of a public option, here's a way you can help. I'm beyond hating it and into grim "what do we do now?" desperation.

What we do – well, what I do; everyone is doing different things – but what I do is a blogathon. Everyone else has their niches, their ways of raising money and helping out; my niche is writing. I am going to write for Tricia. I am going to write every hour on the hour for twenty hours and I am going to bring my A-game and make my writing as funny and passionate and thoughtful and entertaining and badass as possible, because this is what I can do for Tricia. But I need your help.

Here's what I'm going to do.

I'm going to write for 20 hours, as I said. I really, really wanted to do 24 hours, but λ and I eventually agreed jointly that, because of my bipolar and the risks involved in not sleeping for 24 hours – going manic, primarily -- I couldn't risk my health that way. 20 is the most I can safely do, so I'm doing it. Here's how I plan it:


People who would like to help can donate a certain amount of money for every entry I write. There are absolutely no parameters on this. If you want to help but can only afford a very little, putting in a very little is 1,000% okay and no one will judge at all. Any gesture is so, so appreciated.

There will also be bidding on the topic of each entry. I have 20 entries to write and, as of right now, no ideas about what any of them should be about. You can pick a topic for me, for a minimum starting bid of $5. I'll write about absolutely anything you want, with the sole caveat that I will not violate anyone else's privacy. My own life is an open book, and I'll write anything about it and/or anything else you want to see me write about. I'd love it, obviously, if there were actual bidding and some of the topics went for more than $5, but I know that there may not be more than 20 people who want to pick a topic. Maybe there'll be less than 20. Doesn't matter. If you want to pick a topic and you can spare $5, the option's there.

And you can, of course, donate straight to the fund. More on that in a minute.


The mechanics of how this will work:


All proceeds will go to the Tricia Reardon Benefit Fund. This fund has its own bank account, and when the blogathon is done, all proceeds can be PayPaled into this account. It's the same account that the money was donated to in the various other donation drives that have occurred. Further information is available upon request – just let me know what you'd like to know.

As I just said, the money will be collected after the blogathon, since obviously that's when you'll know how many hours I've done.

I may put the PayPal link up before the 'thon ends, or even before it begins – probably will, in fact, in case anyone wants to donate without participating. I'm waiting on the bank account information for the Fund. I'll put that up when I have it.

If there is any more information you need, let me know. You guys on my flist know me; you know I'm not running a scam. I don't know if this will get linked out beyond here, but if it does, people who don't know me might have questions. Ask them.


The most important stuff of all:

If you want to participate, look at the comments page. There are sections there.

First of all, there is a comment at the top, made by me, that is titled "Per-hour donations". That's where you list whatever you will donate for each hour POST that I post, in the "Reply to comment..." on that comment. I put down "per hour" because I lose hardcore; this is based on an hourly post model, but if I miss an hour, you don't have to pay for it. Sheesh. Anyway, in posting a per-POST donation, don't reply to the entry itself; reply to the comment. It will keep things organized. And guys, please do not agree to donate something unless you will be able to afford that amount times 20. This is a serious thing for me and I'll chase people down if I have to but man do I not want to have to. So yeah. Do the math out and be sure it's something you can afford. If you *really* need to retract a bid because something crazy goes down with your finances, please do it before the blogathon takes place if at all possible. But barring emergencies, please sign up only for what you can afford, and please honor your bid.

Secondly, there are twenty more comments made by me which are labeled "First Hour", "Second Hour", etc. These are the comments to which you should reply in order to bid on a topic for that hour. Place your minimum-five-dollar starting bid and tell me to write about whatever you want.

As a note on the "first hour", "second hour" thing, there are two possible time schedules for this blogathon: 4 am to midnight, or 7 am to 3 am. If I am doing the blogathon on a weekday it will be 4 am to midnight. If I'm doing it on a weekend it will be 7 am to 3 am. You guys will get to choose the date in the poll after this entry, since I don't know whether people would in general prefer a weekday or a weekend day. All of which means, if you bid on "First Hour", you are bidding EITHER on a weekday at 4 am OR a weekend at 7 am. I will also note those times in the subject lines so you don't get confused. The hour is noted in full; i.e., the first hour of the blogathon means that I start writing (on a weekday) at 4 am and my deadline for finishing it is 5 am, so the entry might show up anytime between 4 and 5 am (well, probably on the 5 side). I start writing my final entry at 11 pm and end at 12 am, if it's a weekday. You get the picture.

Lastly, there's a section for "General Comments". This is where you ask questions or say whatever else you want to say that is not a per-hour donation commitment or a topic bid.




Which date and time would you prefer for the blogathon?

Saturday, November 21, 7 am-3 am

Sunday, November 22, 7 am-3 am

Monday, November 23, 4 am-midnight

Friday, November 27, 4 am-midnight OR

Friday, November 27, 7 am-3 am

Saturday, November 28, 7 am-3 am

Sunday, November 29, 7 am-3 am

Monday, November 30, 4 am-midnight



(Note: Friday the 27th is listed twice because it's the day after Thanksgiving and therefore a holiday for many people.)

Tricia is an amazing person, and she's very, very sick. I'm not giving details of her specific condition right now because I don't think anyone particularly needs the graphic details of end-stage cancer, and I don't want to violate her privacy if she doesn't want such details shared. But she is an extraordinary person by anyone's measure, and she is dying, and the way in which she is dying is particularly heartbreaking. I'd do anything to ease her way, to say "this is what I can give you and your children, so don't worry. We all love you and we're all working to make it all right." I do not agree with Dylan Thomas. I do want her to go gentle into that good night. I want her to go gently and in peace, knowing her children and grandchildren will never lack for love and support, and knowing that she will never lack for love and support either.

She will not die worrying about mortgages and healthcare bills and who will provide for her children and grandchildren. She will die in peace. We who love her are all determined to make this so. And this is what I can do.

Please, if you can, please help.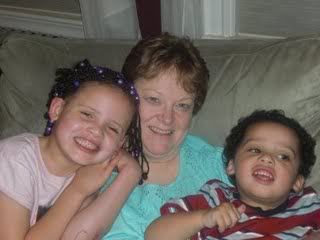 Tricia with her grandchildren, Aliyah and Jayden. From the blog which Tricia's family updates with news about her situation and condition.