Blogathon for Tricia, Hour Sixteen: Down in Fraggle Rock
January 9th, 2010 (08:08 pm)
Here's something you probably didn't know about me:

I am actually a Muppet.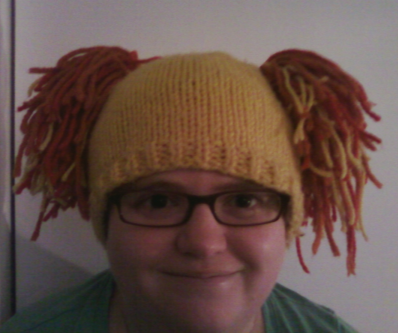 I am a tired Muppet. I am a bag-eyed Muppet. I am a Muppet with a lousy camera phone. I am a Muppet who almost called herself a wombat, just now. Nevertheless: courtesy of
chavvah, I am a Muppet.

As anybody who reads this journal should know, I am not just any Muppet. I am Red Fraggle the Muppet. And here is how that came about:

One day, like a bunch of years ago,
chavvah was looking for new stuff to do with her hands while her brain composed a string of wit-tastic mystery novels and ensured the stability of the Canadian government, or whatever else it is that
chavvah's brain does. I can't keep up with it so I don't know. But I was online chatting with her, whatever she was doing. I believe the conversation we had went something like this:


chavvah: So I'm getting into knitting now.

slammerkinbabe: Ooh! With the needles, right?

chavvah: ...yes. So. Is there anything you'd like me to make you?

slammerkinbabe: OOH OOH OOH! Can I be RED FRAGGLE?

chavvah: I... hm?

slammerkinbabe: Red Fraggle! I'm sure I saw somebody somewhere with a hat with pompoms on it that looked almost sort of like Red Fraggle if you crossed your eyes and touched your nose with your finger.

chavvah: Oh, sure. That. Yeah, I can do that.

slammerkinbabe: REALLY?!? !!!

chavvah: Totally. Actually, I just knitted half of it while you were typing that.

slammerkinbabe: Yay! I AM GOING TO BE A FRAGGLE!

chavvah: And done. Where do I send it?

Perhaps I exaggerate, but not by much.

The thing is, guys, that my Red Fraggle hat is basically the best hat in the world. I mean, it is an extremely warm and awesome hat. But also? I just don't think there is any hat in the universe better suited to me than that hat is. I mean look over the posts today. Jenny my best friend the wall purse? Chris Colfer my decade-junior ultra-gay imaginary paramour? I am neither more nor less than a total off-the-wall goofball. And thanks to
chavvah? I get to proclaim that to everyone who passes me in the street. By means of my Muppet hat.

Incidentally, if anyone wants to send me some spun-sugar Doozer structures in the mail, I could use a pick-me-up.

This is the hour sixteen post of my blogathon for my aunt Tricia, who is dying of end-stage ovarian cancer and whose family is being hit with a whole lot of bills that they can't afford alone as a result. Donations can be made at the link given above. A number of topics are still unclaimed and can be bought for $5 or more.