a super-enthusiastic letter from my agent about the Beth book couldn't cheer me up but LOOK AT THESE
December 7th, 2011 (11:13 pm)
I am the awesomest person in the world and here's why: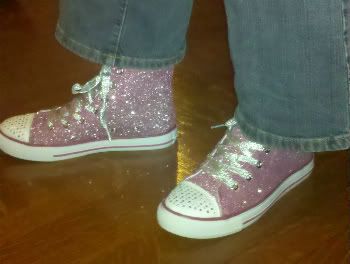 Who knew a kids' size 5 was an adult size 7?! A WHOLE NEW WORLD IS OPENING UP BEFORE ME

λ: Oh, they gave you a pair of white shoelaces, too.
ME: Oh, yeah. I guess.
λ: That's cool. You could change out the silver sparkly ones for the white ones if...
ME: *raised eyebrows*
λ: Right. Never mind.
ME: I did think of tie-dyeing the white ones. Then I could switch them out.
λ: *laughs* You're lying.
ME: Yeah.
A brief pause.
ME: I'm thinking of it now, though.
λ: I know.